Espresso Shaker Funnel • ESF
Coffee Ground Redistribution Funnel
The Espresso Shaker Funnel or ESF is the latest generation of espresso redistribution tools and is the best choice for homogenizing your espresso grounds after grinding.
Grind directly into the ESF and cover and shake to redistribute your grounds. A quick tap on the counter before pulling the plug will loosen any grounds adhering to the inside of the vessel. Designed to fit on an 58mm portafilter.
Here's what makes this generation better than all the rest.
Improved interior and exterior surface geometry.
Wide and deeper flange on the base offers better stability on the portafilter
Interior plug has a more aggressive profile to help the grounds exit faster and with less retention.
Polished interior surfaces and plug.
Exterior ridges for a beautiful finish as well as improved grip.
Lighter overall weight.
The Espresso Shaker Funnel evolved from our Classic Blind Tumbler which was originally designed for the HG-1 Grinder. The ESF is CNC machined from aircraft grade aluminum, then anodized for a protective finish. We recommend wiping with a damp cloth for cleaning. This product is not dishwasher safe; discoloration will occur.
For professional baristas using our products in competition, please contact us for preferential pricing.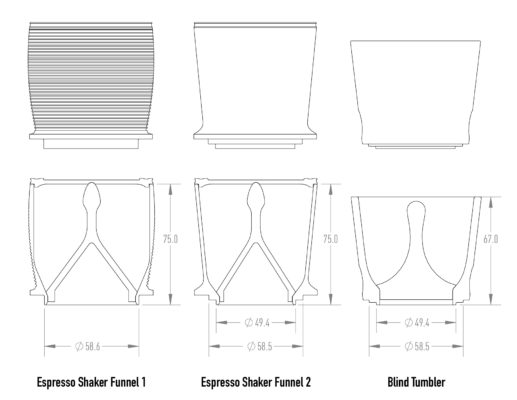 We're happy to offer three different tools for coffee ground distribution. The Espresso Shaker Funnel I for 58mm baskets. The Espresso Shaker Funnel II for 49mm to 58mm baskets. And the venerable Blind Tumbler for 49mm to 58mm baskets for those who wish to stir, not shake.